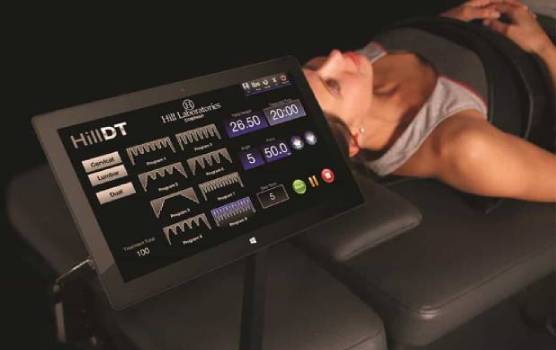 At South OC Chiropractic we use the latest non-surgical spinal decompression machines with over a 90% success rate. Hill DT spinal decompression machine uses advanced bio-feedback load sensor technology which constantly measures, evaluates and monitors the treatment pressure and patient-resistance through computerized algorithms during treatment. At a rate of over 10,000 pulses per millimeter, the table evaluates and senses the patient's approaching discomfort threshold and reduces the pull, allowing the table to provide a smooth low-force decompression therapy for degenerative disc disease and disc herniations that is drastically more effective than cable-based spinal decompression systems and much safer than any spinal surgery options available. Call (949)470-4757 for a free spinal decompression consultation.
SPINAL DECOMPRESSION FOR THESE CONDITIONS
Spinal Decompression has been shown to be very effective for the following conditions.
Disc bulge/herniation
Sciatica
Degenerative disc disease
Degenerative joint disease
Facet arthropathy
Radiculopathy/radiculitis
Post-laminectomy syndrome
Opioid addiction due to pain management
Neck and back pain
South Orange County Chiropractic
Where your health comes first!
South Orange County Chiropractic has been serving Orange County for over 2 decades with over 2,200 sq. ft., digital x-rays and the latest in health care technology to make sure you get the best care available. See why patients all over Orange County are saying South OC Chiropractic is the best in California.
OPENING HOURS
---
Monday-8:30am-noon & 3:00-6:00pm
Tuesday- 9:00am-noon & 2:00-6:00pm
Wednesday- 8:30am-noon & 3:00-6:00pm
Friday- 8:30am-noon & 3:00-6:00pm
Saturday9:30-11:30am
Meet Our Staff
---
Get to know the staff at our Lake Forest Office
Dr. Micah Hamilton, D.C.
Chiropractor, CEO
Dr. Hamilton is a chiropractor in Lake Forest California. He grew up in Concord, California located in the East Bay Area. He moved to Southern California to play collegiate football where he received his Bachelor of Science degree in Sports Medicine from California Lutheran University graduating Summa Cum Laude with departmental distinction honors in Sports Medicine. Following college Dr. Hamilton enrolled in Los Angeles College of Chiropractic where he graduated third in his class with Summa Cum Laude honors.
Dr. Eli Navarrete, D.C.
Chiropractor
After graduating from the Southern California University of Health Sciences formerly known as Los Angeles College of Chiropractic, Dr. Navarrete performed his residency at the Cal State University Fullerton health clinic with private rotation in Garden Grove, CA. As a fluent bilingual doctor, Dr. Navarrete is an advocate of closing down the language barrier that many times can become troublesome during treatment.
Dr. Judy Woo L.Ac, D.C.
Acupuncturist & Chiropractor
Dr. Woo is a licensed acupuncturist and chiropractor in Lake Forest California. Her commitment to clinical excellence and compassion are just a few of her many invaluable skills that she brings to our office. The addition of acupuncture and oriental medicine helps to speed up the healing process and get patients feeling well again.